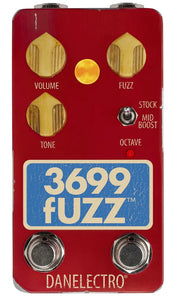 Langley Guitar Centre
Danelectro 3699 Fuzz
Regular price
$219.00
$0.00
Danelectro reissue the iconic 3699 fUZZ™.
Renowned for their cool retro looks, playability and unmistakable sound, Danelectro® guitars were right there at the birth of rock and roll and are still as popular as ever.
Throughout this incredible journey, Danelectro owner Steve Ridinger has also produced some of the finest foot pedals in the history of guitar effects, which includes the classic FOXX® 3699 Tone Machine®, one of the most iconic guitar effect pedals of all time.
Now available as a reissue, the Danelectro 3699 fUZZ™, mirrors all the glorious fuzz tones that made the original a must-have for thousands of players around the world, ever since it was invented by Steve in the 1970's.
---
Share this Product
---
More from this collection